~Greetings Friends!~
(The Jug Band: MM, Jim Kweskin, Bill Keith, Geoff Muldaur & Richard Greene)
No sooner had the Bluesiana Boys & I returned from a wonderful tour of the UK & Ireland, then I left for Japan for a few dates. I had a great time performing and hanging out with the cast of characters from the original Jim Kweskin Jug Band and we had so much fun celebrating our 50th Anniversary that more dates here in the States are coming up soon!
There is a lot going on for me in the next few months! Here is a run down of what is happening next!
Coming right up, The Bluesiana Boys & I are headed to Arizona & New Mexico for a little Southwest run!
Thursday May 23rd
Old Town Center for the Arts
Cottonwood, AZ
SHOW & TICKET INFO HERE

Saturday May 25th
Musical Instrument Museum
Phoenix, AZ
SHOW & TICKET INFO HERE
Sunday May 26th
Silver City Blues Festival
Silver City, NM
FESTIVAL INFO HERE (FREE!)
Then in June, back in California, we have several dates:
Saturday June 15
Shollenberger Shindig Three!
A Sustainable Shindig! Friends of Shollenberger Benefit Concert
Tarafirma Farms, Petaluma
SHOW & TICKET INFO HERE
Shollenberger Park is a bird sanctuary and wetlands preserve at the southern entry to Petaluma that has over 400 visitors a day and is prized by the local community. Dutra Asphalt Plant is attempting to expand an operation adjacent to Shollenberger that is already doing considerable damage to the park and its inhabitants, and Friends of Shollenberger (http://www.saveshollenberger.com) are fighting them in court.
Saturday, June 15th, from 4:00pm until 8:00pm, my Red Hot Bluesiana Band and I will be giving a benefit performance at Tara Firma Farms, 3796 I Street Extension, Petaluma, CA, (707 765-1202), 2.8 miles west of Petaluma Boulevard on the right.
(This will be a CASH ONLY EVENT. Be sure to wear your dancing shoes!)
MORE INFO ABOUT SHOLLENBERGER HERE


LINK TO FACEBOOK EVENT PAGE HERE

And now! FINALLY...For all you folks in Southern California who are always asking when we will be coming your way, we have three gigs coming up in your neighborhood!
 
Thursday June 27th
The Pocket
Santa Cruz, CA
SHOW INFO HERE

Friday June 28th
McCabe's
Los Angeles, CA
SHOW & TICKET INFO HERE

Saturday June 29th
Buttonwood Winery
17th Annual Red, White & Blues
Solvang, CA
SHOW & TICKET INFO HERE

Next up! We had great fun playing together in Japan, and now The 50th Anniversary of the Jim Kweskin Jug Band Show is coming to the San Francisco Bay Area!


First off, we'll be at Studio E in Sebastapol. Then, join us for 2 Very Special Shows at Freight & Salvage in Berkeley! This is a historic, once-in-a-lifetime event, and will sell out quickly, so get your tickets now! In addition to the original jug band members, we have two special guest artists performing with us, jazz & rag-time guitar virtuoso Craig Ventresco & bass-playing ace Sam Bevan.
Wednesday July 3rd & Friday July 5th
Studio E
Sebastapol, CA
SHOW & TICKET INFO HERE


Saturday July 6th & Sunday July 7th
Freight & Salvage
Berkeley, CA
SHOW & TICKET INFO HERE

In late August, just before Labor Day Weekend, we head to the East Coast for a mini tour:

Wednesday August 28th
The Egg
Albany, NY
SHOW & TICKET INFO HERE

Thursday August 29th & Friday August 30th
Club Passim
Cambridge, MA
SHOW & TICKET INFO HERE

Saturday September 1st
Rhythm & Roots Festival
Ninigret Park
Charlestown, RI
SHOW & TICKET INFO HERE

 
More exciting news about some very special collaborations I have coming up with two AMAZING bands - Bill Wyman & The Rhythm Kings, as well as Sacred Steel Gospel Artists, The Campbell Brothers - to follow in the next email!
 
Peace & Blessings

~ Maria ~
produced & designed by 

Simon Says Publicity

simonsayspublicity@gmail.com

I'm excited to announce the release of ... can you believe it... MY 40TH ALBUM!!!
This year's release is a loving tribute to the late, great Memphis Minnie titled ...First Came Memphis Minnie, & features guest performances by my Soul Sisters Bonnie Raitt, Phoebe Snow, Koko Taylor, Rory Block, and Ruthie Foster, as well as the amazing guitar work of Del Rey, Roy Rogers, Alvin Youngblood Hart, Bob Margolin, David Bromberg, and others.
Creating this CD was a true labor of love for me, as I consider Memphis Minnie to be not only a trailblazing musical pioneer for all women, but my personal Blues hero as well! ~ Way back in the day, in 1963, when I was 'In My Girlish Days,' I had the amazing good fortune and privilege of meeting one of the original 'classic' Blues Queens, Victoria Spivey, when she was in her late 70s, living in New York City and running her own record label, Spivey Records. She took me to her apartment and played old 78s, looking for songs that would be suitable for my young voice. Of all the tunes she played for me, the one that made the deepest impression was an old scratchy 78 of a haunting, soulful tune called 'Tricks Ain't Walkin'' by Memphis Minnie. I was deeply moved by the song and immediately added it to my repertoire. From that moment to this, Memphis Minnie, and the example she set for me, have remained a profound influence on my life and my music. She has also influenced many other blues artists. That is why I wanted to collaborate with my Sisters in Music to pay tribute to the woman that inspired us and paved the way for us all!


~FYI: a little bit about Memphis Minnie~
Memphis Minnie not only sang the Blues, she wrote & recorded over 200 of her own songs & played absolutely bitchin' guitar, accompanying herself with a raw rhythmic guitar sound that came to be known as 'Country Blues'. She recorded for over 40 years and was one of the first blues artists (male or female) to take up the electric guitar in 1942. Her unique Country Blues sound evolved into electric urban Blues, blazing the trail for Muddy Waters, Bo Diddley and countless others that followed. She was tough, determined, talented, and courageous enough to defy and overcome all the racial, social, economic, and gender barriers that existed in her time, forging the life she envisioned for herself on nothing but her own terms!
We are celebrating the release of ...First Came Memphis Minnie with an extensive tour of the US & Canada, swinging through the Northwest, British Columbia, the Midwest, New England, the Mid & South Atlantic states, Florida, Louisiana, & Texas, including shows in a number of markets we haven't visited in some time! I'll be accompanied by my Red Hot Bluesiana Band, and we'll be performing songs not only from the new CD, but also from my critically-acclaimed and Blues Award-nominated last release, Steady Love, which reached # 1 on the Living Blues Charts & featured high energy, high spirited Blues, R&B & "Swamp Funk"!

So whether you like Old Blues and/or New Blues, there'll be lots of Soulful Music for you to enjoy at this show!

*****************************************************************************************


I hope you all have been enjoying your summer & have been keeping cool as cucumbers despite all this heat!
Speaking of cucumbers....

CLICK HERE FOR CALIFORNIA RIGHT TO KNOW FACEBOOK PAGE

Vote YES! on Nov. 6 for the California Right to Know Genetically Engineered Food Act of 2012.
READ ALL ABOUT IT, FOLKS, JUST IN CASE YA' DIDN'T KNOW!
In yet another galling example of wanton unfettered corporate greed, Monsanto, and other global biotech corporations, have been hijacking, tampering with, and then patenting the God Given DNA of this planet, for their own selfish gain and profit!
Most people are dumbfounded with disbelief when they learn that these manipulative mega-corporations are creating "Franken-foods" that have not been properly tested and proven without a doubt, to be safe for human and animal consumption, let alone ecologically sound for the environment!

The time has come for us to arm ourselves with as much knowledge & information as possible & all work together to defeat & outlaw this diabolical "Misguided Science" that is doing nothing less than irrevocably altering the very genetic material of this planet, with unknown & unspeakable consequences for us all !!!
It took Mother Nature millions of years to create a perfectly balanced, orchestrated, and endlessly varied food supply - countless varieties of wonderful fruits, vegetables, fish, and other wildlife, all sustaining each other in perfect Harmony. Bountiful Mother Nature has been generously & perfectly providing everything we need to sustain life on earth for ALL Species and now, this misguided science may very well disrupt and destroy the perfect Harmony that Nature has evolved over eons, in just a few decades!
It is extremely vital for everyone in the US to know exactly what is in the food we eat! We hope that all our friends and fans not residing in California, will find this information useful! Perhaps after reading all this and reviewing the links below, you'll be inspired to start a petition to label GMO foods in your own state! Surveys show that 90% of all people, when asked, state that they prefer to consume non-GMO foods!
50 other countries already require labeling!
Let's work together to make ours the 51st country to do so!
Together we can make a change!
JUST A FEW FACTOIDS FOR YOU TO DIGEST:
1. In 2009, the American Academy of Environmental Medicine (AAEM) has asked physicians to advise all patients to avoid GM foods.
2. PhD, MPH Biologist, David Schubert of the Salk Institute warns that "children are the most likely to be adversely effected by toxins and other dietary problems" related to GM foods.
3. Several animal studies indicate "serious health risks associated with genetically modified (GM) food, including infertility, immune problems, accelerated aging, faulty insulin regulation, and changes in major organs and the gastrointestinal system."
4. "It also appears there is a direct correlation between GMOs and autism." --Arden Anderson, MD
5. According to the Institute for Responsible Technology, children's bodies develop at a fast pace and are more likely to be influenced and show the effects of genetically modified (GM) foods.
(IS IT ANY WONDER SO MANY DISEASE AND CONDITIONS NEVER HEARD OF 25 YEARS AGO, HAVE BECOME SO VERY PREVALENT IN OUR POPULATION!???)
Here is a list that I have compiled for you of interesting related links to websites that have a LOT of information about GMOs & the labeling campaign:
http://www.fooddemocracynow.org/blog/2012/aug/13/big_ag_big_food_dump_10_million_against_Prop_37/

http://organicconsumersfund.org/oldmansanto/
http://responsibletechnology.org/
http://www.infowars.com/kevlar-tires-now-required-to-traverse-spear-like-gmo-crops/
http://earthopensource.org/files/pdfs/GMO_Myths_and_Truths/GMO_Myths_and_Truths_1.3.pdf?utm_source=GMO+Myths+and+Truths&utm_campaign=gmo&utm_medium=email
http://blog.alexanderhiggins.com/2012/07/25/monsanto-immunity-federal-laws-151881/
http://articles.mercola.com/sites/articles/archive/2012/07/31/monsanto-powerful-influence.aspx
DEVIL IN THE CORNFIELD
http://www.youtube.com/watch?v=29HrYXydBcQ&feature=youtu.be
SILENT FOREST
http://www.youtube.com/watch?v=w437uQf_A7c
This documentary, Silent Forest, is about the GMO trees and narrated by a major geneticist up in Canada. Discusses how GMO trees will be producing their own pesticides and this will, in turn, kill the insects! Absolutely frightening!
The Monsanto Extinction YouTube
http://www.youtube.com/watch?v=FZ5OxdIq5DY&feature=related
This provides the background of Monsanto and the development of nerve gas (WW II) that was later turned into Agent Orange, and pesticides, which of course, now is Round Up. The Agent Orange gene: 2,4-D is being "stacked" into the GMOs along with the Round Up and Bt gene.
~ Peace, Blessings & Good Health to You All ~


~ Maria ~


photo by Alan Mercer


Click here to listen to an excerpt from STEADY LOVE, and don't forget both of these albums would make great gifts, so visit the Amazon store on my website to purchase them! (Go to page 5 in the store to find both of these albums!)


CLICK HERE TO GO TO MARIA'S WEB-STORE

I want to thank all my loyal friends & fans who came to all of our shows this year, and purchased my CDs. I deeply appreciate your loyalty, and encourage you to continue to
~SUPPORT LIVE MUSIC!~

STEADY LOVE REVIEWS:
"One of the greatest albums of the year."
- John Shelton Ivany, JSI's Top21 Syndicated Column, 9/26/11
#
"If there's an underlying theme to the collection, it's simply that there is a thread that connects this music. There are echoes here of the way Ray Charles turned gospel into secular gold, and Muldaur shows that spirituality can still rock out – the sacred and the profane aren't all that far apart, and spirituality can still temper earthly desire without corrupting the former or diluting the latter.

There's not a single weak outing in Muldaur's now-extensive discography, but this just might be one of her best. Highly recommended!"
- John Taylor, Blinded by Sound, 10/7/11

#
"[Her latest release, STEADY LOVE] continues the winning streak she's been on for the last decade and finds a clearly energized Muldaur in New Orleans surrounded by a first rate assembly of musicians and background vocalists. With her characteristic sly, sexy vocals, she dips into swampy funk...[The] title track is a top notch slab of southern soul and the Percy Mayfield classic, Please Send Someone to Love gets a slow torchy treatment that showcases Muldaur's [soulful] vocal chops. While she is no longer the young chanteuse that made Midnight at the Oasis such a sexy come on in 1974, the intervening years have added a knowing wink to Muldaur's voice that makes it real clear when she sings on Arthur Adam's Get You Next To Me "If you want my Peaches, come on and shake my tree", only a fool would turn down the invitation! Steady Love is a fine entry into Muldaur's immense catalog of great music. "
- Mark Smith, Blues Source, 10/17/11

#

""Soul & grit" emanates from Muldaur's voice on every track of this impressive CD – Muldaur and the band excel at all levels.
...A triumph!"
- Mick Rainsford, Blues in Britain, 10/6/11
#

"Muldaur has one foot in church and another in a Saturday night juke joint as she belts out hand-clapping church rousers, soul ballads and greasy swamp stompers. Over the years her voice has only gotten better, with her pipes now displaying a lusty, full-bodied resonance. On "Steady Love" the 68-year-old proves she's one hot N'awlins mama who is way beyond that Oasis at midnight."- Eric Feber, The Pilot, 10/12/11

#

"Maria Muldaur and her sweet, sultry voice literally helped to define the term "Americana," and she's a national treasure. She's recorded songs that have crossed many genres, and she appeals to fans of all ages. Get ready for a cool road trip down to N'awlins with "Steady Love!""
- Sheryl & Don Crow, Nashville Blues Society, 9/26/11

#

"Perhaps nothing points up the timeless quality of this music as well as her performance of "Please Send Me Someone to Love." Muldaur makes Percy Mayfield's classic 1950's ballad sound like a wrenching lament for the world we're living in right now."
- Nick Critiano, Boulder Daily Camera, 10/7/2011

#
"[STEADY LOVE] is a sure fire winner all the way for Ms. Muldaur. Fans of her earlier, more commercial releases are sure to enjoy this, as will lovers of her more recent Blues albums for Stony Plain."
- Waverley McTavish, Blues & Rhythm (UK), 9/26/11





~ Peace & Blessings ~
Maria




Meanwhile, we are almost finished working on my Memphis Minnie Tribute Album, which will include soulful guest performances by Bonnie Raitt, Ruthie Foster, Rory Block, Phoebe Snow, Del Rey, Suzy Thompson & others.


Speaking of Phoebe Snow, I was deeply saddened to learn of the passing of my dear Sister in Music, Phoebe Snow. We met in New York in 1970, in front of Gerde's Folk City. Knowing that I was a big Memphis Minnie fan, and had already recorded one of her songs, Phoebe whipped out her guitar and sang & played an amazing rendition of Memphis Minnie's "In My Girlish Days". I was absolutely awe-struck by her unbelievable voice and quite considerable skill on the guitar! Right there, in that moment, we bonded & became friends and Soul Sisters for life, a relationship that lasted some 41 years! Throughout both of our long musical journeys, we commiserated and gave each other mutual support and advice on life, love, and the vicissitudes of this crazy thing called the" music business".

Phoebe was so much more than merely a singer. She was an absolutely formidable force of nature! Every time she opened her mouth to sing, she unleashed an earth-shaking, electrifying Power and Musical Energy that reached out and grabbed you & transported you to a Higher Place.
I feel so blessed to have known her as an intimate friend, and to have had the chance to collaborate with her musically. I will miss her terribly, but take solace in knowing that she is up there raising the roof, or should I say clouds, belting it out in that Heavenly Choir on High!
Here is a soulful song I had the pleasure of singing with Phoebe on my Yes We Can! album in 2008 ~ (even more relevant today!) ~ give a listen & enjoy!

CLICK ON THE PICTURE BELOW TO SEE THE VIDEO


**********************************************************************************************************************

I had a fabulous time hanging out & singing with my Soul Sisters & Buddy Guy at the GRAMMY Ceremony, and feel honored to have been part of the whole celebration!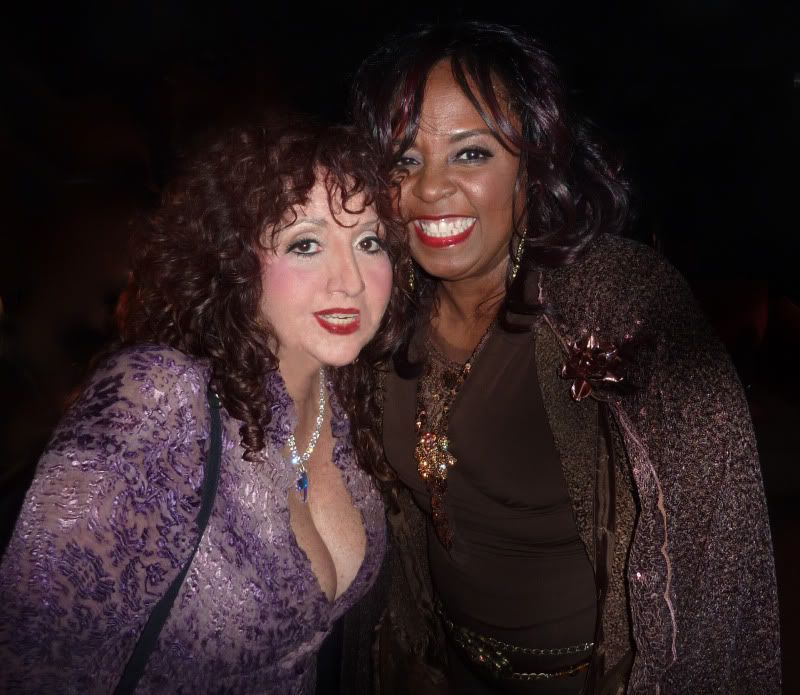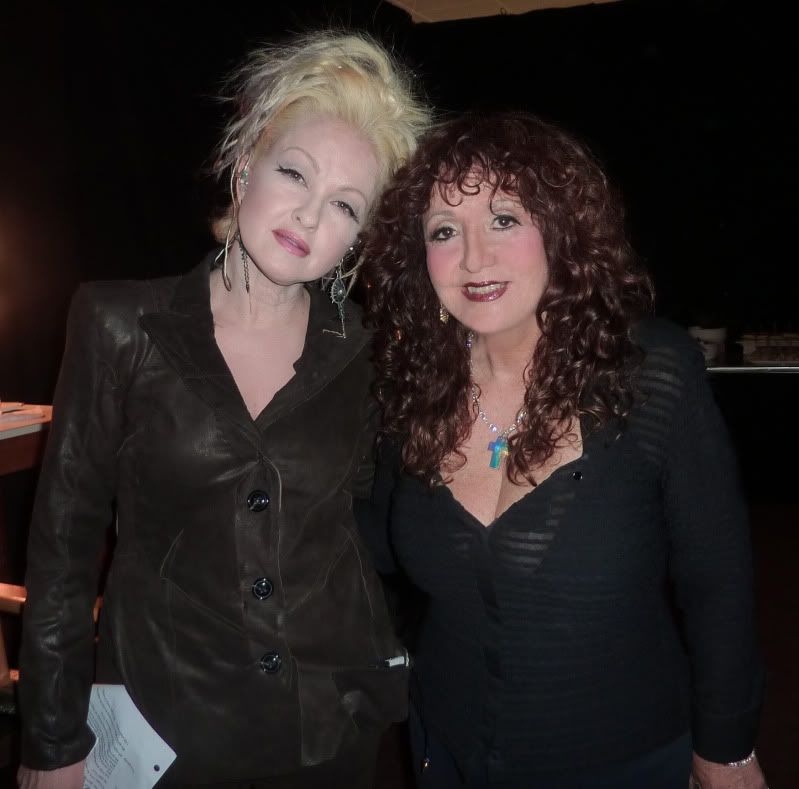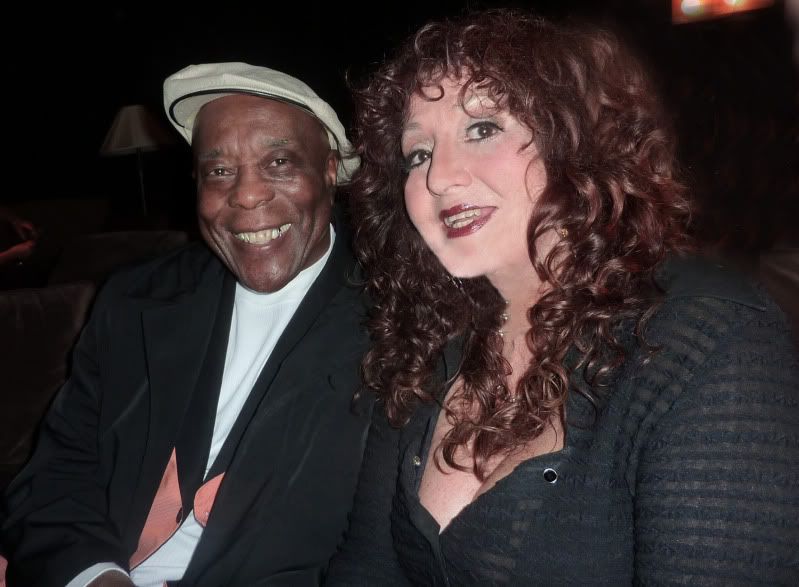 (From L to R: hanging out with Betty Wright, Cyndi Lauper, and Buddy Guy)